Thank you for visiting Little Schoolhouse in the Suburbs. Please subscribe and you'll get great homeschool tips sent to your inbox for free!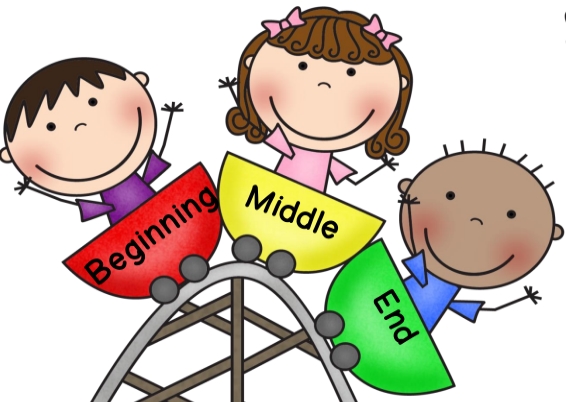 This weeks readings include:  more stories from Catholic Tales for Boys and Girls (does have a describable story structure, usually), St. Joseph Picture book Celebrating Lent (no story structure), Two more pictures and readings from My Path to Heaven, (no plot structure), and chapters from Great Americans for Little Americans (often have story structure)
So that in these last ten weeks of school I can really hit the Language Arts hard, I printed out the following three resources and put them in my mama binder to help with the literacy goals that AREN'T in the lesson plans.  My consultant always asked me if the kids had a clear "beginning, middle, and end" to their retellings.  I said, "Yes."  I didn't know what I was talking about until I read the first resource below.  NO, that's not how our retellings go.  It's much more complete than what I was expecting.
The second resource, once you know about how to define a good "beginning, middle, and end" is just a visual reminder to mention setting, title, characters.  The third is a photograph of a more advanced version of describing the plot that I will use with my 4th and 5th graders.  We will use these three resources to discuss the stories we read in the mornings during read aloud time.  Not all readings have a story structure, as many don't have plots but are just a series of events from the person's life.  However, anything with plot can be used.
http://www.teacherspayteachers.com/Product/Oral-Retelling-Posters-902364
http://www.pinterest.com/pin/346214290075318381/
http://closingthegapinacuteoutfit.blogspot.com/2012/12/the-wonders-of-retelling.html
{ 1 comment }