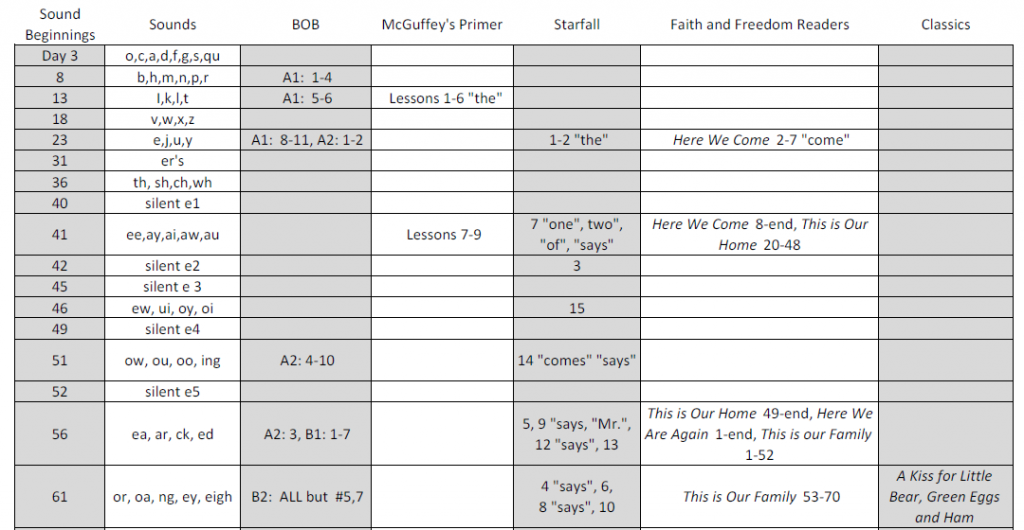 I don't know about you, but I find reading practice really frustrating.  Every phonics program teaches the phonograms in different orders and I have no idea what readers are right for practice outside of the lessons.  So, I made some printables to help me you out.
If you use Teach your Child to Read in 100 Easy Lessons (MODG syllabi-K & 1st, DYOCC-K only), you will find that there is really no need for decodables, since it has it in the text.  This is good because there aren't many readers out there you could use anyway.  100EZ doesn't teach the short e sound until lesson 57, and you have to have short e to read most decodables.   After Lesson 67, you could add 10 minutes a day of Faith and Freedom Readers to help your child bridge from the 100EZ style to regular books and cover lots of needed sight words.
In DYOCC, Laura Berquist recommends switching from 100EZ to Sound Beginnings for 1st grade.  I find that I can no longer cram my children through the 100EZ lessons after a certain point and switch out of a desire for family peace.  If you choose to go this route, you have a LOT more decodable readers available for 1st grade reading practice.   Switching to Sound Beginnings allows you to use decodables after only a few days of teaching.
Here are links for the books I mention: