Thank you for visiting Little Schoolhouse in the Suburbs. Please subscribe and you'll get great homeschool tips sent to your inbox for free!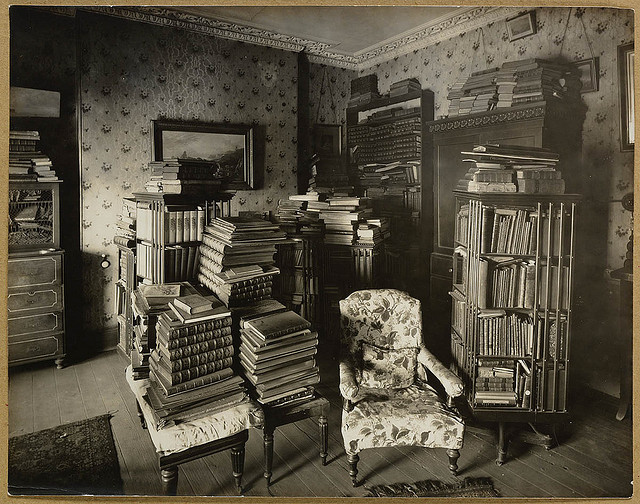 Over the years, finances have changed enough and lifestyle has changed enough that I'm not currently pinching pennies on homeschool.  However, that hasn't always been (and might not always be.)  I was reminded lately of how distressing extra expenses can be.
Advantages of MoDG Methodology
I hear people say that our school is really expensive, the tons of books and all.  However, there is one difference that makes is so much less expensive than your typical living books curriculum.  We read books in a timely fashion. 
When I started out, I was using a combination of online Charlotte Mason curricula (Ambleside, Old Fashioned Education, Mater Amabilis.)  You were simultaneously reading ALL of the books, one tiny section per week.  That meant you HAD to own them.  You were going to be using them for THIRTY WEEKS.  There was no "getting them from the library."  Most of our supplemental books are read in about six weeks.  That makes it possible to borrow a book from a library or a friend.  Whew!
Another blessing of our methodology is the sense of relaxation about the historical timing.  We don't have a stranglehold on the chronological order.  "We can't read Landing of the Pilgrims NOW, we're only on JAMESTOWN!!!," said no one.  Your child is totally capable of reading a George Washington book smack in the middle of the War of 1812 work in his text book.
We generally go in order, but within a semester is more than sufficient.  That means books that were checked out (or being used by your friend) when you needed them last month can be switched out with another book the was coming down the pike this year anyway.   It's okay.  Breathe.
The fiction/liturgical lists are flexible.  It's not expected that you will get to all of them….ever.  That means if you can find ENOUGH to keep you busy, you're good.
That means:
You can SHARE with another living books family.  Another homeschool mom (actually two) and I traded books all the time.  We treated each others houses like the library.  Also helpful, neither of them used MoDG, so even when our kids were on the same year, the schedules were off from each other.  HA!  One was Seton eclectic and the other Sonlight.  Our books are in TONS of programs.  Make a friend somewhere within a 45 minute drive.
If your library has a hold system, always keep your allowed holds maxed out.  I got each child a card and would "reserve" their needed books ages ahead to stack the cards in my favor for actually getting the book on time.  Our hold system lets us set the date for a hold to begin.  Depending on how many renewals I needed, I might set the reserve date to one month before it was going to show up in the syllabus.  For example, in the middle of July, I might set up 5 holds for fifth grade:  GWW starting Aug 1, BFOP for Sept 10, Tremain for October 10, GFGW for Nov 10, and Amos for January 1.  As the semester went on, I could change the later dates to more accurately reflect when I would need them.  And every time I picked up a hold, I added another to the list.
Next Year and Beyond
The key to not spending a lot on books is starting your pile YEARS ahead of time, so you can wait for the good deals.  Get the next FIVE (or more) years book lists and hit the following places:
Start putting in requests that your library purchase later years' books now.  Get your friends to do it too.  Our library is always looking for title recommendations to add to the collection.  Our system now has all the D'Aulaire books and a good number of Catholic picture books.
Scout out your local (old) school parish libraries.  The older schools tend to have the books we want.  My favorite one has everything pre-1980 editions (at least that's what it looks like) in the ministry house.  It's not even in the school.
Check your diocese library.  Ours had quite a few books we needed.
Put them in your wish list on paperbackswap.com.  The postage to send books (especially multiples to the same person) is way less than buying credits outright.
Put them on private Amazon wish lists and Abebooks. I had one for "must buy" and one for "could buy."  Any time you have 5 dollars laying around, scroll down and see who is selling one of your books ("good" condition or better) for a buck plus shipping.*
Used book stores.  Lots of classics there for a dollar.  Keep that list in your pocket

any time you travel.

Yard sales. Since I was only looking for books, I could buzz through most of the sales in my area in an hour.  The editions I found were OLD, but they were fine copies.
Check your parent's house.  Mine had kept all their old school books.  They had several on my list.
Use the Baldwin Project and Loyal Books (previously Books Should Be Free), for free access to classics.  New books are added to these sites all the time.  I found several old Catholic goodies on here, like First Communion Days on audio for free.
Start a book trading co-op in your homeschool group.  I was in a babysitting club for years.  We used  a point system.  You could do the same thing with books on a yahoo group and will more likely get the books you want on the day you want them.  It does require a monthly secretary to keep up with all the trades, but it would be worth it.  (Also would cut down on buying new curricula so you can "see inside.") I'll do a post on the specifics if anyone shows interest.
*An Amazon note:  We have an Amazon credit card that is only used for business or online purchases.  We have it set to "autopay" so we never accumulate interest.  We treat it just like a debit card.  We get points that we use for other Amazon purchases.  Also, we have a prime account that we share with my family.  We take turns paying for it.  That gives us access to lots of free books, movies, and music.
Anyone have some tips to add?