Thank you for visiting Little Schoolhouse in the Suburbs. Please subscribe and you'll get great homeschool tips sent to your inbox for free!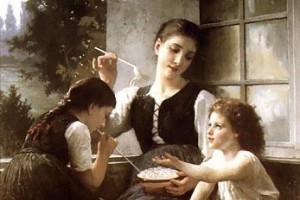 The school has their own methodology and skill goals, but I tend to want a bird's eye "this is what he will know" concrete content list for each grade.  So, that's what I'm writing here.  If you follow the lesson plans as written, this is what you get (in my experience):
Music:
Your child will be able to sing along with 7 different classic hymns.  Three hymns, he will know in Latin and English.  One hymn he will know in four versions: Latin, English, Latin chant, English chant.  The syllabus spends about two weeks on each, with a review at the end of the year.  Like anything else, you will get out of it what you put into it.  Results range from "Yeah, I think I've heard that before somewhere," to "Let me sing these alone for my grandparents at Christmas."
My thoughts:  I like it for a few reasons.  1) It's good stuff to have stored in the noggin. 2) If you read Catholic books, classic hymns are often referenced. 3) When they learn Latin later, they will already have experience with the pronunciation and it won't be as much nonsense. 4) They can hang with their Latin mass friends and will be able to sing along in movies that have the nun choirs.  HA!
Poetry:
The child will learn 7 classic children's poems.  Again, depending on what you put into it, the results range from being able to say it in a choral setting to reciting it alone for relatives.
My thoughts:  You would not believe how much these poems pop up in literature later!  But more importantly, a head full of these verses is so enjoyable.  When we're stuck anywhere, it's a fast, entertaining game to start spouting off poems together.  We really enjoy it.  My kids especially like joking around with the words, something you can only do if you already have it memorized.
Art: 
The child will recognize and know the names/artists for about 12 famous paintings (depending how much attention you give that last part.)  Even without that, he will spend so much time examining them that he will remember them fondly forever.
My thoughts:  This seemed silly when I first got started, but as we have progressed through MODG, I have realized that holding a clear visual image is not something that develops without practice.  Something about the culture of my youth that trained me to do it is no longer present.  I've had to TEACH my kids how to do it.  And my daughter's dyslexia program has a separate curriculum entirely devoted to "disabilities" that arise in reading and spelling from not having this skill mastered.
Other Art Activities:  In addition to the card work, there are several crafts tied to our faith and liturgical year.  Also, the primary/secondary color mixing is addressed.  The bulk of the work, however, is the 36 illustrations the child makes in conjunction with religion class, plus the 7 poetry illustrations.  Lots of creative expression and fine motor practice.
Religion:  
The Golden Children's Bible is a "stretch text."  Your child will cover scripture stories from Adam to David this year.  He will retell and illustrate 36.  That is quite an accomplishment!
My thoughts:  Since this text is intentionally difficult, expect that the early retellings will be much less accurate than the later ones.  My third child started out saying that after Noah got out of the boat, he "hit his head on a rock and died. The End."  He got better as the year went on.  It bothered me at first that the child wasn't learning the Bible stories as well as I wanted him to.    If you keep these retellings in a notebook and encourage him to review them, go through and pick his favorites every week or so, or periodically show them off to relatives, he will naturally retain more of it.  But, don't worry, he will cover this series of stories twice more before 5th grade is over.  Eventually, he'll know who Gideon is.
Math:
The child will learn to recognize and write his digits; count orally to 25, hopefully 100; and do concrete addition and subtraction.  He will also spend time on shapes. 
My thoughts:  All of this is TOTALLY APPROPRIATE for kindergarten.  It's sweet and lovely.  However, it's mismatched (in my opinion), with the 1st grade Abeka math.  Abeka math is a full year ahead of most other math curricula.  Abeka kids did this math in preK.  So, when you start Abeka 1 next year, it may feel like you skipped a year of math, because YOU DID.   Also know that on the tail end, when we leave Abeka 3 and hit Saxon 5/4, it will feel like you are repeating a year.  Because YOU ARE.  However, 4th grade is the first year they have to write their math on their own paper while looking at a book, so we don't mind it being a repeat. That skill has been hard for each of my kids.  For a smoother ride next go around, I'm going to do Abeka K4 and K5 before we get to Arithmetic 1.
Literature:
Reading aloud is assigned every day.  However, you can use the book lists in the back in any order you choose.  But, if you read 30 minutes a day, you will get through almost everything back there.  That means your child will be familiar with most of the famous nursery tales (like 3 bears, 3 billy goats, etc), fairy tales (Grimm, Perrault), and classic picture books (Beatrix Potter, Curious George, Madeline, etc.)  Note: the Watty Piper and Chimney Corner OP books are mostly nursery tales.  You may need to replace them with Galdone books from the library, though many can be found in the illustration-lacking Bennet book.  Also, there are lists of liturgical and saints readings in the back.  If you use those, your child will have a great smattering of Catholic culture to boot.
My thoughts:  The lack of structure here is unnerving, but know that if you just progress through at 15-30 minutes a day, your child will get what he needs.  Nursery tales and fairy tales are NECESSARY for any kind of sophisticated understanding of later literature.  They are referenced constantly.  And none of us should grow up without Peter Rabbit, right?  In K, it's easy to give the child their own reading time and cover all of the books assigned to this grade.   It is not so easy in later years.
Handwriting:  
The child will practice all of his upper and lower case letters.  For the last 6 weeks of the year, he will write short sentences as copywork.
My thoughts:  Fine, but he could use more practice before jumping to sentences.
Reading: 
100 EZ up to lesson 32.
Sounds learned:  m, s, t, r, d, c, l, w, th1, th2, short a-i-o-u, and LONG e. 
Dolch Words learned:  am,  me, at, see, eat, read, sit, is, this, that, the, on, not, in, an, can, if, and, run, it, little, will, with, we
My thoughts:  NOT ENOUGH.  You can't read ANY easy readers until you get that short E (Lesson 52), which is WEEKS and WEEKS into first grade.  However, the K syllabus seems to think that you can read them, as it assigns easy readers near the end of the K year.  Also, the Abeka 1 math next year assumes that the child already knows his number words.  This is an impossibility if you follow the 100EZ lesson plans as written.
FINAL ASSESSMENT THOUGHTS:
In my opinion, after three kids out of five, the art, music, poetry, literature, and religion plans deserved WAY more respect than I gave them.  They pay off year after year, even in 6th grade.
The handwriting is fine, but not amazing.
The reading, and math lesson plans are more suited to PreK, considering what is expected of them in the next two years.  (I will likely not use those as written for my other kids. I will use Abeka from the beginning for math and another phonics curriculum.)
If your child hasn't had exposure to all of the nursery rhymes and songs that are a necessary part of our culture and understanding of literature, this curriculum won't do it for you.
If your child hasn't already learned his full name, birthday, address, phone number, the ABC's, and how to skip, gallop, and the like, this curriculum won't do it for you.