Thank you for visiting Little Schoolhouse in the Suburbs. Please subscribe and you'll get great homeschool tips sent to your inbox for free!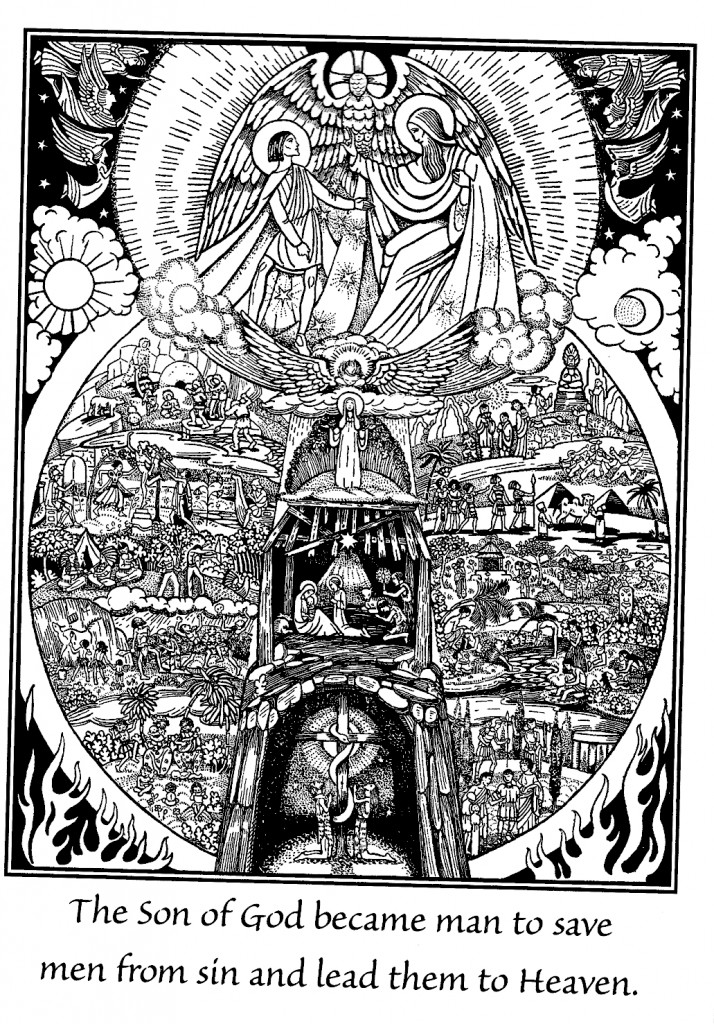 Over the four weeks I typed up for you:
We still opened daily with Psalm 100, it's like our dinner bell for Circle Time.  Everyone grabs and toy or something to draw and heads to the carpet.
We continued to work our way through always start with our MUST DO's for the day.

Great Americans for Little Americans by Eggleston. With each story, we identify the main characters, the setting, and the main points of the story.
We read Felix and the Spider and the corresponding story about him in Once Upon a Time Saints, but it never got retold or illustrated.  We had a lively discussion, though, about the differences in the stories and which parts were likely imaginary.

We did no particular saints reading. Francis De Paola got skipped and I totally forgot about Callie's saint report.
We got over halfway through Catholic Tales for Boys and Girls and will have one picture left for next week in My Path to Heaven.  We were sick and traveling here and there, so I let DTBG slide in favor of finishing MPTH.
We did memory work time as described, except that I wore out on catechism.  We reviewed less per day than we were supposed to.

We are reading all the Easter picture books, but it's going to bleed over into next week.  We started Seed Babies, which we LOVE.  I don't know what will happen to Rolf and Beowulf.
Our plans for the next few weeks look like this:
We will still open daily with Psalm 100 and coloring, drawing, and toys.
We will continue to read Great Americans for Little Americans (2GRD) until we run out of stories.
To finish Bible History (4GRD) before school is over, we will read a set of those each Monday-Tuesday.  They're to much to read in one sitting, right?
We will continue to work our way through Seed Babies since we love botany. As soon as that's over, we probably need to do Marquette or Matchlock Gun (4GRD) since I don't have those on audio.
There is very little liturgical stuff left to sprinkle in.  We'll do St. George on the 23rd for 2GRD retelling and Just Like Mary, and Take it to the Queen for Mary's month.  Might thrown in Comgall from Pochocki if we need another retelling.
We will continue to follow our memory work pattern:

2GRD poem, capitals (4GRD participates), catechism, and latin hymn on youtube.  Set him free to to do math facts games on computer.
4GRD poem, geography facts (5GRD participates), catechism, and latin prayers (5GRD participates). Set her free to do math facts.
5GRD poem, geography facts, catechism, and latin song on you tube. Send him off to do alone work.

The rest of our day, if you're curious, is 2GRD is first babysitter while I do all the 4GRD Mama Work.  Then I set her up with "near me" work while I make lunch.  She becomes second babysitter.  I work with 2GRD and turn him loose.  Then I do whatever discussions are needed for 5GRD.  Done before 2 PM.