Thank you for visiting Little Schoolhouse in the Suburbs. Please subscribe and you'll get great homeschool tips sent to your inbox for free!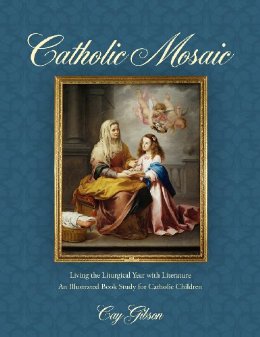 I have that Catholic mosaic picture up there because their (free) booklist has a great deal of overlap with the proprietary MODG booklists, but I can review it without making people uncomfortable (I hope.) Underlined titles are books we use for retellings and may read out of order depending on when we need to do it.
Books We Love
JANUARY
The Last Straw by Fredrick H. Thury/Vlasta van Kampen
Story of the Three Wise Kings by Tomie dePaola
A Gift of Gracias by Julia Alvarez/Beatriz Vidal
FEBRUARY
Brigid's Cloak: An Ancient Irish Story by Bryce Milligan/ Helen Cann
The Holy Twins: Benedict and Scholastica by Kathleen Norris/ Tomie dePaola
Saint Valentine by Robert Sabuda
MARCH
Patrick: Patron Saint of Ireland by Tomie dePaola
The Song of the Swallows by Leo Politi
APRIL
Little Rose of Sharon by Nan Gurley/ Tim Jonke
Petook: An Easter Story by Caryll Houselander/ Tomie dePaola
MAY
The Weight of a Mass: A Tale of Faith by Josephine Nobisso/ Katalin Szegedi
Pascual and the Kitchen Angels by Tomie dePaola
JULY
Christopher, the Holy Giant by Tomie dePaola
SEPTEMBER
Peter Claver, Patron Saint of Slaves by Julia Durango/Rebecca Garcia-Franco
The Tale of Three Trees by Angela Elwell Hunt/ Tim Jonke
OCTOBER
Francis: The Poor Man of Assisi by Tomie dePaola
DECEMBER
The Clown of God by Tomie dePaola
The Legend of the Poinsettia by Tomie dePaola
The Night of Las Posadas by Tomie dePaola
The Donkey's Dream by Barbara Helen Berger
Books that we don't regularly use:
Mary: Mother of Jesus by Mary Joslin/Alison Wisenfeld–don't care for the portrayal

The Little Match Girl by H.C. Andersen/illustrated by Rachel Isadora–too sad for my anxious kids

The Giving Tree by Shel Silverstein–never have liked this book

Saint George and the Dragon by Margaret Hodges/ Trina Schart Hyman– prefer version from Children's Book of Virtues

The Caterpillar that Came to Church: A Story of the Eucharist by Irene Hooker/Susan Andrews Brindle/ Miriam Andrews Lademan–my kids didn't like it, so we forgo all the expensive Brindle books

The Princess and the Kiss: A Story of God's Gift of Purity by Jennie Bishop/Preston McDaniels–We kiss family members and friends all the time, so this would be confusing.

Joan of Arc by Diane Stanley–way too long for my young kids

The Twelve Apostles by Marianna Mayer–way too long and dry for my kids

The Legend of Saint Christopher by Margaret Hodges/ Richard Jesse Watson–we just prefer the de Paola version

A Child's Book of Prayer in Art by Sister Wendy Beckett–fell flat with my crowd

Sister Anne's Hands by Marybeth Lorbiecki/ K. Wendy Popp–we don't "do" racism this early unless it comes up naturally

Mother Teresa by Demi–too graphic for my anxious kids, they don't need to know some kids are in dumpsters yet

Angel in the Waters by Regina Doman, Ben Hatke–my kids love to look at this book, but we won't do "respect life" until it comes up naturally; they don't need to know some people kill their "inside" babies
Everything else on the list has been harder to find or we just haven't had occasion to read it.