Thank you for visiting Little Schoolhouse in the Suburbs. Please subscribe and you'll get great homeschool tips sent to your inbox for free!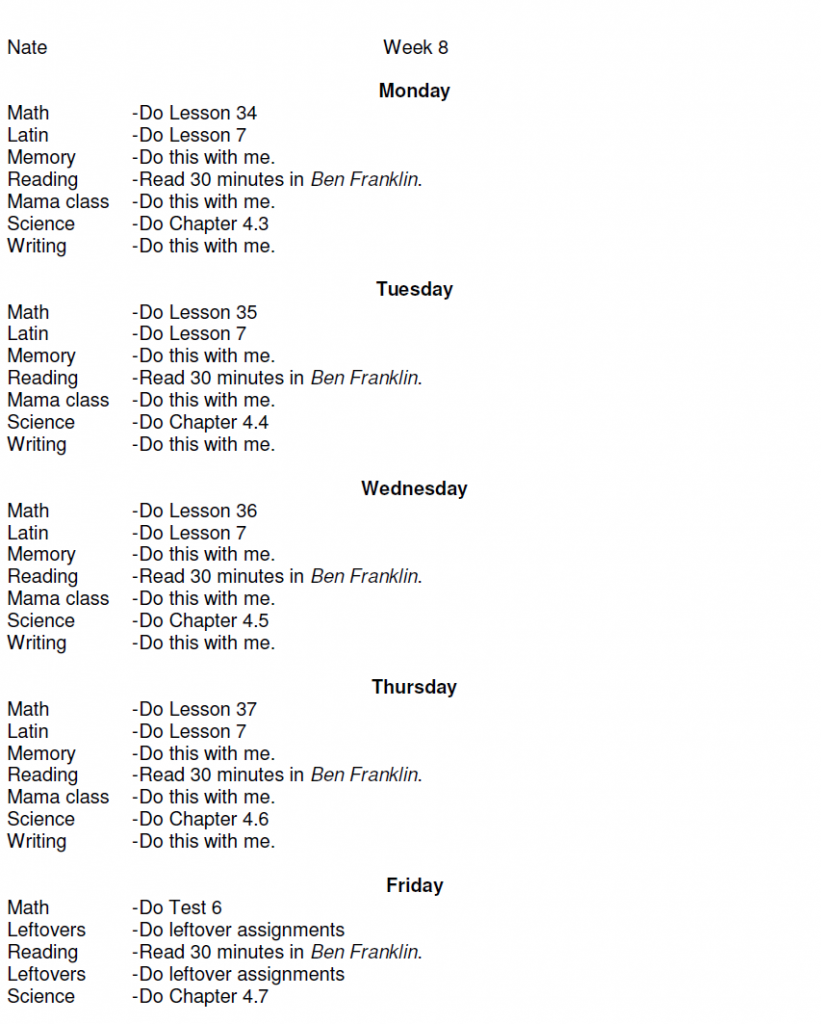 PARTS OF THIS POST ARE NOW OBSOLETE.  Enrolled families have online syllabi.
This works for anyone, but I'm going to specifically talk about MODG.  Most syllabi are written for the mom or the kid.  And almost none of them talk about how to juggle multiple kids.  Here's how I do it.
Identify WORK ALONE assignments.  

Identify WORK WITH ME or NEAR ME assignments.
Identify assignments that need supervision, but can be done in a group for your family.  For our family….

memory work MUST be done individually
math can be done in a big group as I float between kids

Plan out where YOUR BODY is going to be.  Your schedule doesn't have to be a rigid as mine in any other aspect, but you MUST plan who you're with and WHEN.  I break our work into five groups.  See picture after the bullets to see how I worked it out.:

MATH:  We do this in a pile, first thing in the morning.
READING ALONE:  I schedule this throughout the day for different kids to give me alone time with another child.
MAMA CLASS:  This is all "work near me" stuff that varies by week.  Religion and history readings that require *discussion*, all the worksheets, Language arts, etc.  I have the whole list for the week and we go straight through.  For K-2, this is only a Friday class, but 3rd and up it's a 30 min/day class with me.
WRITING CLASS:  This class is with me four days a week for 3rd and up.  I pull ALL the writing assignments out of the Language Arts, History, Art etc. curriculum.  Every week, we write our poem stanza, do a bible retelling, and do one writing project.
MEMORY/LATIN :  Everyone works with me 15 minutes a day on memory work and spends about that much time doing Latin.

IN ORDER OF YOUR DAY, write your assignment books.  It's silly to put the dictation instructions into my son's notebook.  I need them, not him.  So I make one assignment book for each child and ONE FOR ME.  They don't need the memory work, I do.  I don't need the math chapter, they do.  I don't need the Latin lesson number, they do.  They don't need the liturgical reading schedule, I do.   See the picture at the beginning of the post for my son's assignments for week 8.  See below for my assignments for the same week.