Thank you for visiting Little Schoolhouse in the Suburbs. Please subscribe and you'll get great homeschool tips sent to your inbox for free!
Marie Picard's  Creative Alphabet For Preschool and Kindergarten site description:
A great help for the parent to make a reading and writing readiness program for preschool and kindergarten. Includes a printing page at 1 1/2″ size character for each letter of the alphabet, each with a word and a line drawing to color. Next to each printing page is a full list of words to choose from, for vocabulary, for an alphabet scrapbook, and for activities perhaps to do and talk about during the time your child is doing a particular letter. Other little siblings can benefit at the same time as they can see and hear and perhaps do at their level what the older child is drawing or colouring. The results should show that your student knows the sound and shape of each letter of the alphabet. After this book your child might practice in Book B. Check out our sample pages for both Book A and Book B.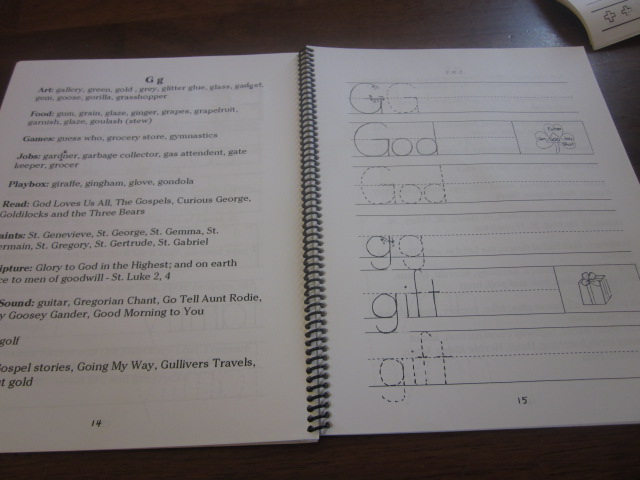 This text is used for MODG Kindergarten handwriting.  It not necessary to teach the letter sounds, as it is only intended for handwriting practice.  One page is taught per week, spending a little time each day forming the letters and tracing the words.  The syllabus follows the text by teaching the letters in alphabetical order which will not match the reading assignments.  There is no attempt to make them match this year.
The idea is to get a handle on this wacky invention we call the pencil.  It's not necessary to have any idea what you are writing.  We're going for muscle memory, or at least muscle-familiarity.
This is also why it's importat to practice actual letters, rather than just drawing or doing mazes and whatnot.  Even if a child doesn't know the letters he's making, his hand begins to memorize that we always start at the top, we always make our circles THIS direction, etc.